Julia's Easy Boeuf Bourguignon
INGREDIENTS
2 tablespoons olive oil
3 1/3 pounds chuck roast (trimmed and cubed)
12 shallots (peeled)
4 slices bacon (chopped)
1 tablespoon flour
1 tablespoon tomato paste
1 cup beef stock
1 cup red wine (good)
8 ounces button mushrooms (halved if large)
1 bouquet garni (thyme stems, parsley stems and bay leaves, tied together)
1/4 cup chopped parsley (coarsely)
green beans (optional)
crusty bread (optional)
INSTRUCTIONS
Heat 2 tsp of the oil in a Dutch oven on medium heat. Brown meat in batches 2-3 mins each, adding more oil and reheating pan between batches. Transfer to a plate.

Heat remaining oil in same pan on high heat. Sauté shallots and bacon 4-5 mins, until golden.

Add flour and cook, stirring, 1 min. Stir in tomato paste. Gradually add stock and wine, stirring. Return meat to pan with mushrooms and bouquet garni.

Cover and bring to a boil. Reduce heat to very low. Simmer 1 hour. Uncover and simmer for 25-30 mins, until meat is tender and sauce has thickened. Season to taste. Sprinkle with parsley. Serve with steamed green beans and crusty bread.
LOCALVORE WINE PAIRING SUGGESTION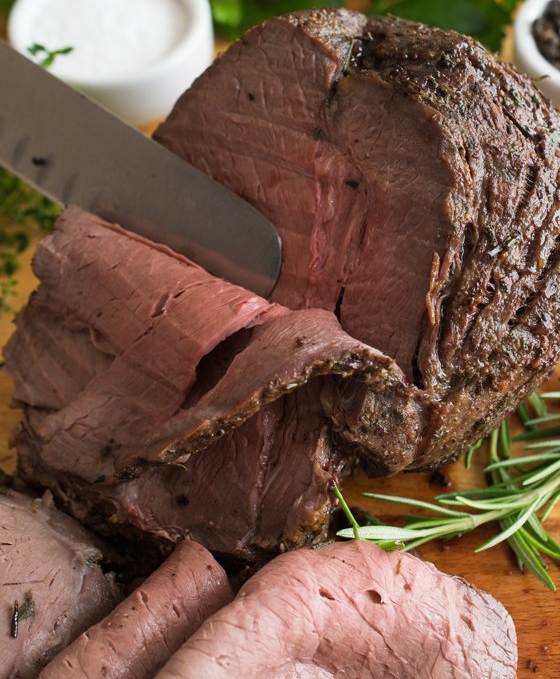 INGREDIENTS
1 Top of the Round roast, about 3-4 pounds
¾ teaspoon of kosher salt per pound of beef
¼ teaspoon of freshly ground pepper per pound of beef
¼ teaspoon garlic powder per pound of beef
1 teaspoon of fresh herbs per pound of beef (any combination of fresh thyme, parsley and rosemary)
2 tablespoons olive oil
mashed Potatoes (serving suggestion)
tossed green salad (serving suggestion)
INSTRUCTIONS
Mix herbs and spices and coat beef. Place beef in gallon zipper seal bag 24 hours prior to cooking. (So if you want it for dinner tomorrow at 6:00 PM, it needs to go into the bag today at 2:00 PM to allow for 2 hours to come to room temperature and 2 hours cooking time.) If you remove it sooner than 24 hours, some of the liquid that the beef gives up in this process will not have worked its way back into the meat and it will roast up dry.

Refrigerate and after 24 hours, and two hours before serving preheat your oven to 325 degrees.

Four hours before serving, remove the beef from the bag and pat dry with paper towels. The only liquid should be just a little surface moisture.

Let roast come up to room temperature, about 1-2 hours.

Heat a cast iron skillet to smoking hot and add olive oil. When the oil is shimmering and hot, add beef and sear on all sides, top and bottom for about 2 minutes on each side.
LOCALVORE WINE PAIRING SUGGESTION
Steak Crostini with Carrot-Horseradish Marmalade
Ingredients
1 French bread baguette (10-1/2 ounces), cut into 1/4-inch slices
1/4 cup olive oil, divided
1 pound medium carrots, grated
2 cups water
1-1/2 cups sugar
1 to 2 tablespoons prepared horseradish
1 tablespoon butter
1 cup chopped onion
2 cups shredded Swiss cheese
1 carton (8 ounces) mascarpone cheese
2 tablespoons mayonnaise
1 tablespoon sour cream
1 boneless beef New York Strip Steak (12 to 14 ounces)
Directions
1. Preheat oven to 350°. Place baguette slices on baking sheets; brush with 2 tablespoons olive oil. Bake until toasted, about 10 minutes.
2. Place carrots and water in a large saucepan; bring to a boil over medium-high heat. Cook, uncovered, 10 minutes. Add sugar; cook on medium heat until thickened, about 15 minutes, stirring occasionally. Remove from heat; add desired amount of horseradish and mix well. Cool.
3. Meanwhile, in a small saucepan over medium-low heat, melt butter. Cook and stir onions until golden brown and tender, 10-12 minutes; cool. Stir in cheeses, mayonnaise and sour cream.
4. In a large skillet, heat remaining olive oil over medium-high heat. Add steak; cook 4 minutes on each side until meat reaches medium-rare (thermometer should read 135°). Let stand 5 minutes; cut into thin slices.
5. To serve, spread cheese mixture on each baguette slice. Add a piece of steak; top with carrot mixture. Soak up the compliments!
TOTAL TIME: Prep: 1 hour Cook: 30 min.
YIELD: 3-1/2 doz.
Adapted from Taste of Home recipe